« Zen of Palm – Tag 0 | Home | PDA Nr. 283: HiT-6100WC »
By oliver | November 24, 2012
Ende 1996 nahm das Unheil seinen Lauf, als Windows CE 1.0 erschien. Kurze Zeit später waren dann auch die ersten PDAs und Handhelds mit diesem Betriebssystem verfügbar.
Einer dieser frühen Vertreter ist der Casio Cassiopeia A-11: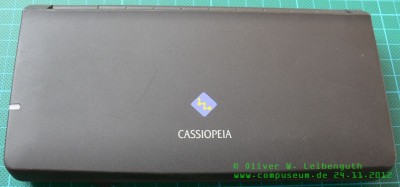 Ausgestattet mit 4 MB Ram und einer Hitachi SH3-CPU mit stattlichen 40 Mhz, hat das Arbeiten damit nicht wirklich Freude bereitet.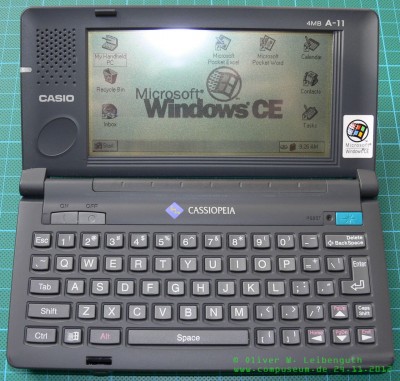 Wie ich bereits gerade vor Kurzem in meinem "Zen of Palm"-Posting beschrieben habe, war WinCE von Anfang an der falsche Weg, da man versuchte, die Optik von Windows 95 auf ein wesentlich kleineres Gerät zu transportieren. Erstaunlicherweise hat sich dieser Irrweg bis in die jüngste Zeit gehalten – WinCE ist mittlerweile bei Version 7 angekommen. Offenbar haben sich unnötige und unbrauchbare Features am Ende doch als Gewinner erwiesen.
_____________________________________________________________
Alle Inhalte auf dieser Seite Copyright Oliver W. Leibenguth
Topics: neuer PDA | 2 Comments »
2 Responses to "PDA Nr. 282: Casio Cassiopeia A-11"
hpfan Says:
Februar 1st, 2013 at 19:53

nana, die "unnötigen und unbrauchbaren" Features nutze ich seit ca. 12 Jahren bis heute.
Mein Cassiopeia A23G ist bis heute ein unersetzliches Arbeitsgerät, PocketWord, HexMonitor, kleinere Tabellen, mit "RuksunTermforce" übertrage ich auch Dateien auf meinen alten Psion 3C.
Wieso Cassiopeia A23? Weil der normale Mignon Akkus braucht, mit Eneloop 2500mAh Akkus kann der Wochenlang in der Schublade liegen, und wenn ich ihn brauchen, läuft er!

Gabriela Says:
April 5th, 2014 at 18:26

Hola, tengo una igual pero nunca la use, y tiene una ranura para una tarjeta, quisiera saber que funcion cumple esa tarjeta, gracias.
Comments